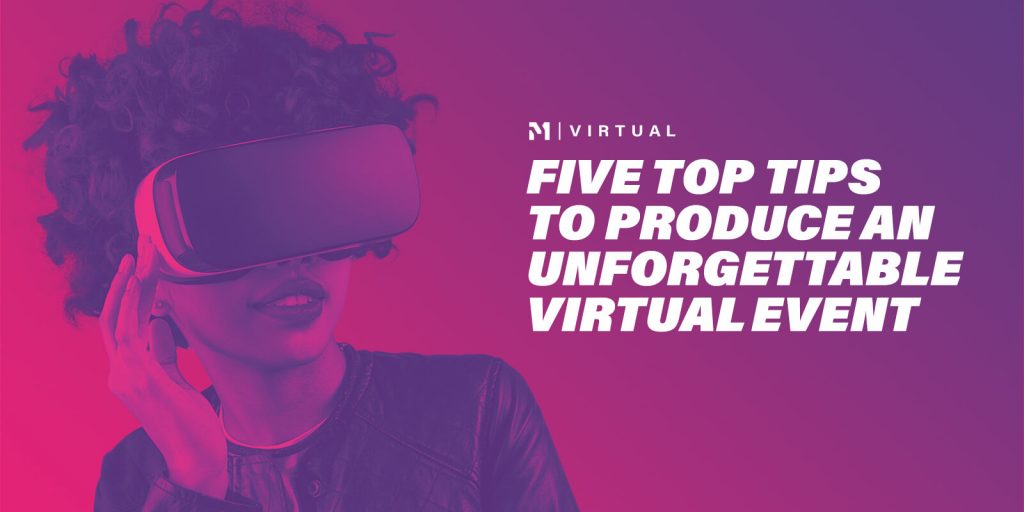 Can a virtual event really give you the same level of engagement and sales leads as a physical, face-to-face one? If you were waiting for the perfect time to add virtual events to your marketing stack, this is – without a doubt – it. 
However, while a virtual event won't need a venue,  producing one still takes a lot of work and thought, so here are five top tips to get you started. 
Plan, plan, plan 
If done right, the gap between a virtual event and a face-to-face one isn't as wide as you'd think. At MOI, whether we're producing a virtual or physical event, all the planning, strategy and even our Turning Heads creative process and philosophy are the same.  
You'll need to build a team of people with these skills:  
Production – think of a virtual event as kind of like a TV production 
Digital marketing – there's no point  in planning an event if nobody knows about it  
Event management – if you can manage a physical event, you can manage a virtual one 
The biggest difference with a virtual event is that you'll research different digital platforms and partners rather than search for, and visit, venues. As a good number of your virtual attendees will be joining sessions via smartphone, your chosen platform needs to be mobile-friendly. 
"The partners you choose to work with will make or break your virtual event," says MOI Event Director Hayley Dean-Corke. "But we're fortunate enough to work with some amazing partners, who give us the support that lets us focus on producing an event that really engage our clients' audiences."
Get in touch if you want any partner recommendations.
Keep your audience engaged 
Create and distribute pre-event content and reminders to keep your audience engaged. You'll need to find the right balance to keep your event in their minds without annoying them. 
During the event, their attentions will be bombarded by notifications from Twitter, email and even their kids. You can keep them engaged with things like live polls and Q&As (your attendees, not their kids).  
We all have limits on how long we can concentrate for, so a good rule of thumb is to keep all  live virtual sessions/seminars to a maximum of 30-60 minutes.   
Look after your virtual stars 
Just like with face-to-face events, all your hard work will go to waste if the quality of your keynote speakers isn't up to scratch, so somebody in your team will need to take responsibility for managing them. 
Plus, you'll need a facilitator to ensure smooth transitions between presentations and speakers, and to bookend the whole event with a nice opener and closer.     
Hold a speaker rehearsal at least one week beforehand, where everyone uses the same room and equipment that they'll use on the day.  
Make sure that: 
Audio/video equipment is working 
Speakers are looking into the camera as if they're talking directly to the audience 
Speakers are properly lit, e.g. their faces aren't in shadow 
Be a digital matchmaker 
Why have a virtual event when we all know that networking is the real reason  many  people  attend face-to-face events? 
If it doesn't support two-way human interaction, then you'll just be producing a webinar rather than a fully realised virtual experience.
It's a good thing, then, that the right platform will let attendees network with one another. 
Encourage audience members to use your platform's chat features, and to ask the speaker any questions – the facilitator can act as a gatekeeper and read out the good ones. 
To simulate the experience of waiting by the side of the stage to chat to the speaker, you can include speaker bios for audience members to click through and continue the conversation.  
These conversations might happen on LinkedIn, so it's always worth making sure your speakers' profiles are up-to-date, professional and customer-facing (rather than CV-based). That's why many of the ABM campaigns we deliver for clients include profile optimisation.  
Follow up with your audience  
Follow up with attendees quickly, to thank them for joining and arrange follow-up conversations and meetings. And don't forget to ask for any feedback – the stuff you'll learn will be especially helpful if you're still new to virtual event management.  
Send them a recording of the event and any links to assets including presentation decks or eBooks.  
Just as with any physical event, you've got real opportunities to convert content produced at the event into longer term audience engagement, turning it into a more robust, targeted and effective campaign.  
Get in touch to see how MOI can help you pivot your physical event strategy into virtual experiences that engage audiences and drive ROI.
Check out the Experiential page: https://moi-global.com/capabilities-mvirtual/