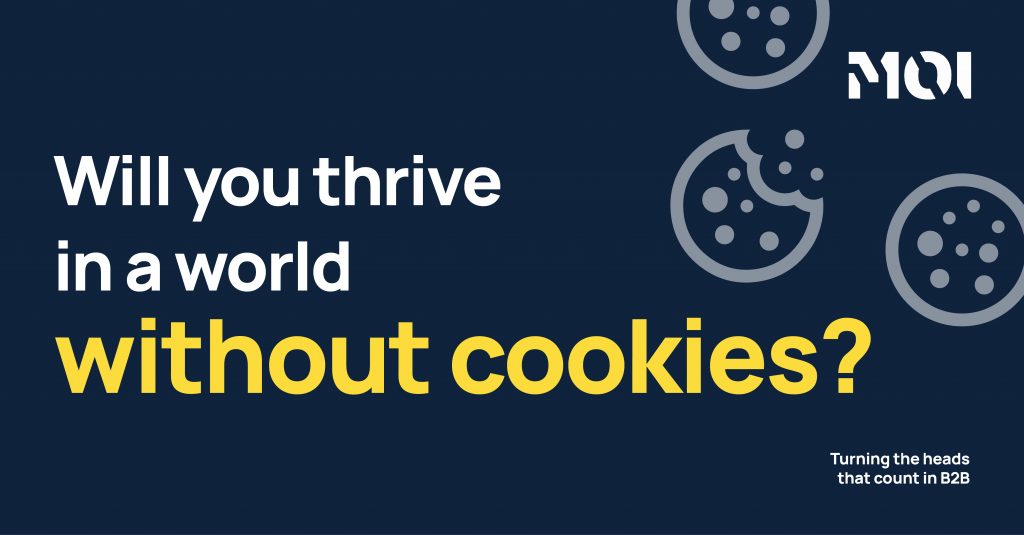 For the last couple of years, marketing leaders around the world have faced an increased risk of cookie deprivation.
This means many targeting, buying, optimizing, and analytics functions are and will continue to be, heavily restricted; particularly in programs that focus on demand and performance.
While this makes the future unsettling, MOI doesn't see this as a threat. For us, it's just another challenge to address and manage head-on, in our ever-evolving industry. Arguably, the shift to a cookieless world will force companies to take a more strategic approach to their messaging and targeting. 
"We can't say we have a silver bullet answer, or that we can offer a unique approach. But we have an overall point of view, shared among our subject matter experts, our partners, and industry thought leaders."
We're all in this, together.
So, who will be affected most? The short answer is everyone―consumers, regulators, browsers, and ad tech/publishers will all be affected―across B2C and B2B. This isn't something that can be fixed by agencies or clients. The marketing world needs to adapt to this new normal, by targeting and reporting on performance with the same level of granularity we can today. Once 3rd-party cookies are restricted (reminder: they aren't completely disappearing), how we can target, and measure will change. It doesn't mean we can't  do those things; it just means we'll need to do them differently. 
Making sense of the challenge.
Among the many challenges, measuring view-through conversions―giving credit to touch points along the way―will be the biggest. Tackling it means looking for cookieless conversion solutions for click-through actions, and studying CDP (customer data platform) data, site analytics data, and brand lift. This shift from conversion tracking can illustrate media performance more fully and thoughtfully.
With frequency control also affected, being served ads for items you've already purchased will become a frustration. Currently, advertisers manage and cap ad frequency via the cookie, to drive a better user experience. With this changing, even if an ad is contextually targeted to the right person, it could be delivered too often, or even post-conversion.
In terms of Account Based Marketing (ABM), the end of 3rd-party cookies won't largely affect our partners' ability to remain account centric in their B2B targeting. Where B2B will be affected, however, is in targeting high-intent users, who rely on cookies. In response, we're looking at many solutions that will enable us to continue targeting key decision makers at accounts without cookies.
Think differently, tread confidently. 
While 3rd-party cookies haven't yet fully disappeared, there are steps you can take to ensure the impact is as painless as possible:  
Stay on top of how things change, and the potential solutions currently in development; LiveRamp Identity Resolution, TTD's Unified ID, Google's FLoC, Bombora's firmographic and ABM digital audience solutions sans 3p cookies via IP/MAIDs/HEMs.
Understand how cookie allowances may differ across different regions. TechTarget has a perspective on EMEA here
Start thinking about how your organization will need to adopt a new measurement framework (not just paid but of all marketing efforts/sources) given traditional MarTech/attribution models will be less useful and cross-channel visibility will be extremely limited. 
Incorporate lift/change in your account penetration and funnel velocity measurement, to evaluate how programs perform, instead of by channel/source/function. 
Place a heavier emphasis on rebuilding your brand―putting the user at the center―and reevaluate the role content and UX plays in the buyer's journey.
One bite at a time: how to go about all this.
There are a few things you can do, to get ahead of the changes coming your way.
We highly recommend adopting a 1p data strategy, where possible. DemandBase shares why HERE. You could also develop and/or strengthen partnerships with data providers, publishers, walled gardens (6sense is on top of this), and other partners, to learn more about, and how to apply, 1p and 2p data. This is particularly valuable to B2B graphs and IP mapping/householding (ensuring compliance, of course).
Investing in audience research will help you better understand where your consumers and prospects are, and how best to reach them at every touchpoint along their buyer journey. This should include your SEO strategy along with the on-site experience. 
"We cannot emphasize enough, the importance of your approach to measurement. Establishing a full-funnel measurement framework, that allows for adjustments over time―and aligning on the right KPIs to fulfill that framework―is critical to evaluating success. Neither you, your CEO, nor your CMO can afford to ignore the inevitable reset on how performance, impact, and value are measured. Traditional KPIs and models, as well as first/last touch models, simply won't be enough." 
Increasing your investment in brand and content, and not weighting your budget heavily in favor of demand gen tactics, alone. And building confidence in smarter, AI-driven, contextual targeting as a tactical strategy. 
Evaluating and investing in brand studies/attribution modeling, to combat the many shortfalls of first/last tough models. And committing to organization-wide alignment on your evolved measurement approach, as this will support a more holistic approach in place of tactical strategies. 
What NOT to do. 
With the effects expected to be so far-reaching, we strongly advise you don't simply wait to see what happens―make sure you prepare. Don't keep using the same measurement framework to evaluate your performance. And definitely don't look for a secret sauce―there isn't one.
Ultimately, your organization must stay abreast of changes to the landscape and commit to embracing them. The biggest impact your business is likely to see is the effect on measurement and attribution or lack thereof.  
Get in touch for specialist digital support
If you need specialist support with your performance marketing strategy and how to approach targeting and reporting with this fundamental change, get in touch with us. We'll offer you fresh perspectives and practical advice to help your brand grow the right way.