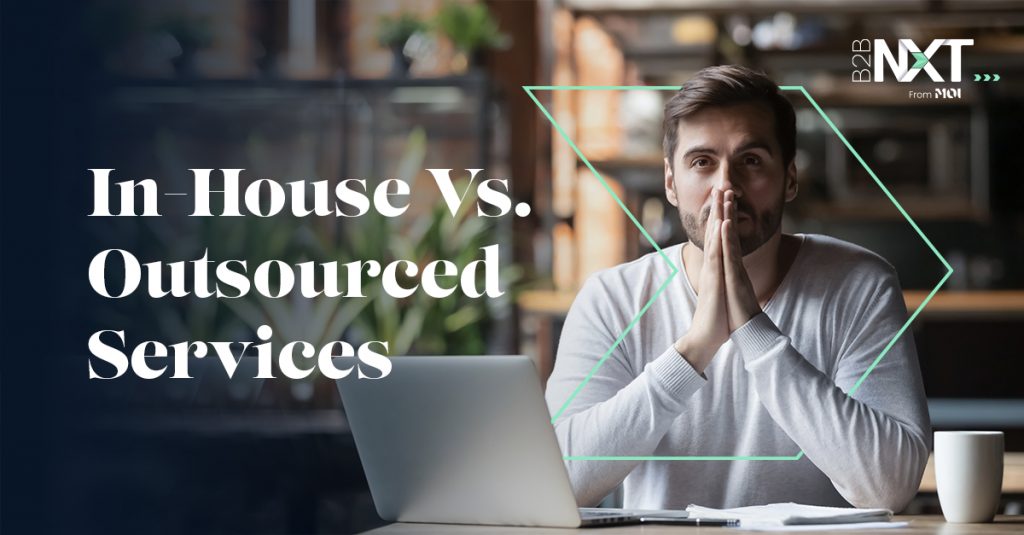 The evolving role of marketing agencies 
Should you build an internal agency?
The fact is that marketing has gone full circle. More and more challenger organisations are starting to bring marketing back in-house, whether that's to consolidate costs, ensure consistency of messaging, or build a knowledge base internally.
Naturally this trend is more prevalent in larger enterprises, with greater resource to hand. But all the way down to start-ups, the focus on internal teams is evolving and augmenting relationships with external agencies.
Not that agencies have been pushed to the sidelines. Instead, this trend marks a change of role. Agencies are adapting – constantly – to meet the dynamic B2B market, developing capabilities that catch the eye.
Here, there's no right or wrong. No one-size-fits-all. In-house vs. outsource is a cost-benefit analysis that could tilt either way, depending on the organisation. But what every agency has in common – be it in-house or external – is that it needs a repertoire of skills.
Skill set: the 4 B's
Build, buy, borrow, bridge. That's the 4 B's method organisations follow to create a talent pipeline that never leaves them shorthanded.
It starts with organisations looking to build talent in-house through development and learning. Where there's an urgent need, talent is bought from external markets.
The idea is to obtain the right skills to circumvent engaging an agency for more marketing support than is necessary, and in so doing reduce the overall cost. Focus is fixed firmly on internal employees, who are challenged to grow steadily within the organisation – the bridge.
However, all this depends on whether talent is available. More so, it doesn't make commercial sense to build up certain skills that are only used sparingly. That's why most organisations also borrow.
Whether it's to plug a gap short term or to acquire specialist knowledge, the pool of talent agencies provide will never go out of fashion. Clients are free to tap into a diverse skill set, working to their own peaks and troughs. With this scalability meaning people are only paid when used.
Creative strategy
Money is a main motivator. But when deliberating in-house or outsource, it's only half the story.
An internal agency has control over the entire marketing process. No back and forth with other organisations limits the distortion of an original vision, meaning it can be more easily brought to reality.
But a good agency is also a good listener. Reading between the lines while recording a word-for-word transcript, to decipher what the client really needs. Fine-tuning a creative vision with inter– and intra–industry experience.
Effective marketing is sound strategy coupled with outstanding execution. Often, in-house creative loses sight of strategy and becomes a production engine. While for global corporates, a single production engine lacks understanding of regional differences, leading to ineffective campaigns no matter how strong the creative. Globalising campaigns and tapping into their regional knowledge is where agencies truly shine.
Of course, nobody knows the product better than a dedicated, purpose-built internal team. But agencies sit at the leading edge of marketing strategy and execution. For in-house teams deeply entrenched in their own brand, agencies add fresh perspective, diversity of thinking, specialist knowledge.
And, by sitting outside of the corporate structure, agencies often transcend hierarchy to help clients achieve more ambitious or unorthodox campaigns and objectives – in other words, encouraging and facilitating bravery.
A hybrid approach
What often works best is balancing the two. View the agency as an extension of in-house creative. A tool to bring your marketing vision to life. When the chemistry is right, it adds another dimension to the work.
Angela Earl, VP of Global Marketing at RFPIO, puts it perfectly. "Only agencies can go away and have raw creative thinking."
Strong agencies are led by strategy, not product. They wear a data lens to view the market. They analyse consumer behaviour to inform strategy and reach the right audience, at the right time, through the right channel.
Has an agency enhanced your in-house creative? Please post your experiences below.
David Haward, Chief People Officer, MOI Global 
Sean Beresford, Senior Account Director, MOI Global