In an economic downturn we have to be less B2B, and drum up novel solutions to age-old challenges. Lead generation's no different: even as budgets shrink, there are so many alternative ways of driving demand for clients!
Marketers are feeling the pinch.
We're not officially in a recession—but it certainly feels like it. Budgets are tight, yet every client needs us to continue generating demand for their brand.
That's why today our Head of Demand Kate Baker and Global Senior Media Planner Charlie Vaughan are sharing their top tips for B2B marketers looking to drive demand on a restricted budget!
Bravely explore new and unconventional channels and tactics
When your budget's tight, it might seem obvious that you should just carry on deploying traditional tactics. But to maximise opportunities and drive demand—especially in times of economic uncertainty—sometimes you've got to be bold, do things differently—and be less B2B.
Of course, don't be different just for its own sake, but if it feels right and makes sense for your brand you could utilise platforms less commonly associated with B2B, like TikTok, or even LADbible. You might just reach a whole new audience in the most unexpected of places…
Don't guess where your customers might be—target them in the right places!
When every dollar of marketing spend counts, it's more important than ever to ensure you're hitting the right audience. Yet we see so many B2B marketers target customers by assuming where they get their content, rather than taking the time to pin down their location. There's no point landing programmatic ads on Forbes if your audience is over on MailOnline.
Instead, find a trustworthy DSP and third-party data provider to target your audience where they actually are. You'll hit the right people in the right places, and massively cut down on wasted marketing spend. Some of our favourite vendors are:
Trust your agency and the data and experience they hold. And if you're not buying your data direct from a vendor, at least ask your programmatic or content syndication partner where they're sourcing theirs. Then exercise due diligence and ensure the source is reliable. If it's not, don't waste a penny of your budget on it.
Get creative with out-of-home advertising
Out-of-home advertising is a brilliant way to show off your brand and convey your message at surprisingly little expense. We've had clients spend £5k on 10 billboards across a specific location, or indeed an entire country, and witness a remarkable rise in demand.
Review your marketing plans and see where out-of-home could play its part. For example, if you're planning an in-person event in a city, why not supplement it with some out-of-home advertising to drive home the message to attendees and prospects alike?
Just remember: your ad must have a clear CTA. If it's at street level (as opposed to on a billboard), you could even utilise a barcode or QR code—in our experience, these have become much more popular since Covid.
And if you're in need of a little inspiration to get started, check out the latest out-of-home advertising we deployed for Colt Technology Services, which went all around Europe. They're definitely not so B2B!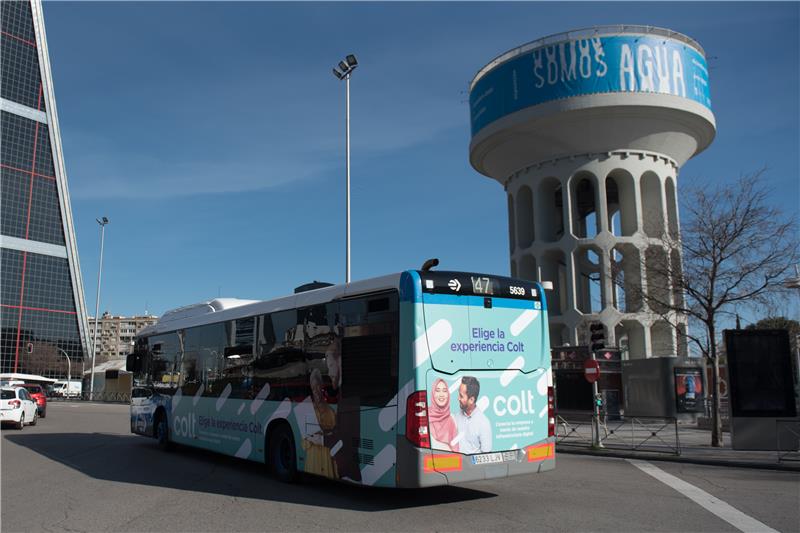 Utilise content syndication by all means—but do it right
Content syndication is a tried and tested marketing tactic, and can be highly effective for more traditional lead generation. But it's important to get the most out of your budget by working with the right vendors and asking the right questions to maximise your content's performance.
Whether you're working with an agency or direct with a publisher, we highly recommend seeking their advice on best practices for maximising your content's performance based on current market trends. If you're not sure how to start the conversation, these questions will get the ball rolling:
What industries are surging at the moment?
What topics are trending within my target audience?
What content formats are getting high engagement right now?
With most of the campaigns we run for tech and cloud companies, the lead must agree to be willing to purchase a particular product or solution before they can be qualified for Sales to pick up. So when it comes to lead data, ensure your data and targeting capture is optimised to enhance your campaigns.
It's vital to identify what your content needs to do to qualify users as leads for your own sales team. Make sure it's designed to capture this information to generate maximum ROI. You can facilitate this by providing publishers and your agency with the most up-to-date information on lead scoring during the handover process. This will enable us to give recommendations for squeezing more from the budget and increasing your lead scoring. For example, many publishers offer the ability to ask qualifying questions, and on top of this we can suggest the best types of content to increase the score.
Finally—communicate with your agency! Although you're paying them to take on the heavy lifting, nuances in lead delivery must ultimately come from the client and their vast internal knowledge.
Get in touch for a fresh perspective
Need some guidance on how to drive demand while riding the economic wave? No problem—simply contact Kate or Charlie today and schedule an exploratory chat. Let's lay out your pain points, discuss your business challenges, and draw up a plan to help you win.