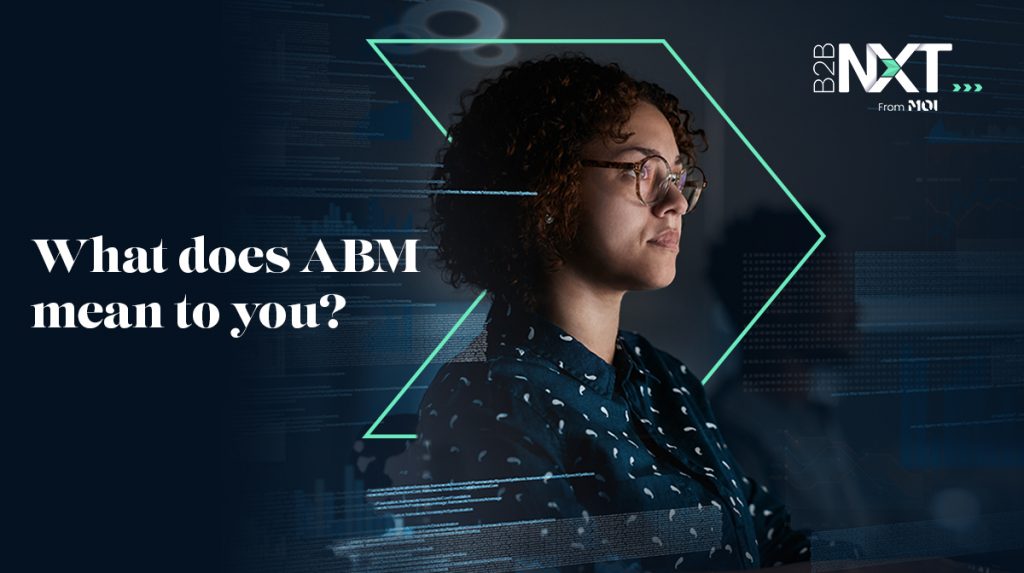 As MOIs Global ABM Lead, I focus on helping companies stand out by transforming their go-to-market strategy.

At B2B Marketing's recent Global ABM Conference, I heard other members of the global ABM community talk about the current state of play, and where they think ABM is heading. Here are a few takeaways from the event, and some of my own views on how account-based principles are the future of go-to-market strategies, and making now, an exciting time to work in B2B marketing―particularly in the ABM space.
ABM has many meanings.

When ABM pioneer Bev Burgess opened the conference by quizzing attendees on the key ABM principles and what these look like to them, responses ranged from client-centric marketing, one-to-one, one-to-many, one-to-few, ABX (account-based experience), ABE (account-based everything), and even ABG (and account-based growth).
The conversation turned to whether we thought ABM meant gift-sending, personalised content or sales teams using insights or other. All this made one thing clear: ABM means different things to different people, and we're all on our own paths.
Jargon and acronyms aside, successful ABM is down to keeping your content and strategy relevant and actionable—while balancing a data-rich, consultative approach—and this especially applies in B2B.
ABM shouldn't just be about marketing. It should be aligned to how businesses engage their accounts—across sales, service, customer success, product, and the wider organisation.
I love seeing MOI's clients do things differently. It's awesome to witness ABMers being empowered to encourage their business to think in different ways. They can be the architects within their organisations, helping design systems, develop people, and introduce skills, to serve personalised experiences for all their customers.
ABM is about relationships and experiences.

While ABM continues to evolve—and overlap with other disciplines, like lead generation, a lot of marketers are using it to engage new accounts. However, a recent B2B Marketing survey shows ABM is helping most marketers grow their existing accounts.
ABM―however you apply it―is about the relationships we have with customers and prospects that lead to better experiences for everyone.
Pure-play one-to-one ABM differs from one-to-few. One-to-one ABM focuses on a high-value strategic account―driven by data and intel and delivered by a sales team who live and breathe that specific account.
One-to-few ABM still relies on creating a sense of personalisation but leverages technology and automation, to reach a wider audience and a cluster of target accounts. Whichever approach you take, you need to focus on your marketing spend―something that's front of mind for all marketing leads right now. According to research from The Harvard Business Review, companies that balance cost cutting with marketing investments, have a 37% chance of thriving post-recession.
80/20: ABM's golden ratio.
To do ABM well, you need to find the sweet spot for your focus. That means crunching the numbers. Today, the 80/20 rule applies in a wide range of real-life contexts. And just as 80 percent of the world's birds are represented by only 20 percent of species, 80 percent of your sales are generated by just 20 percent of your sales team. Most importantly for marketers, 80 percent of your revenue comes from just 20 percent of your customers.
When running an ABM campaign, you need to identify your top 20 percent of accounts and deliver a fantastic experience for them. This is why personalisation is key—backed by intelligence and creativity. Delivering ABM campaigns relies on rich data and research, combined with compelling storytelling and head-turning creativity.
Bring these components together in harmony, and your ABM campaigns deliver the results you want.
Orchestrating the ultimate ABM 'hit'.
ABM marketers must be orchestrators. Choosing which instruments to include, picking the right talent, and making sure the pitch is perfect. But the perfect ABMer has many faces, and the people I heard from at the conference support this. The head of ABM at one leading company explained she/he defines and designs ABM programs, then hires a team to deliver that expertise. Just as one of my favourite musicians Miles Davis did, when working towards his next 'hit' track. He'd make a plan, and hand-pick pianists, guitarists, and drummers to help play out his vision.
Conversely, one voice in the room mentioned that they 'hire for the mini-CMO mindset' and look for talent that's used to wearing lots of hats, working across teams, and driving ABM programs.
Others talked about the link between ABM and the role of Customer Success Manager, and how we should be using customer success experts as an extension of our ABM teams. I'm excited to see how this front-line team applies account-based principles, to their existing customer success approaches.
All in all, there isn't a single approach to picking a rock star ABM team, and if building the right team is a struggle for your organisation, MOI's ABM experts are here to offer fresh perspectives, new ideas, and industry expertise. We can integrate effortlessly with your team, tools, and processes to deliver revenue-generating ABM programs.
Why applying account-based principles, everywhere, will pay off.
My ABM team believes that applying account-based principles such as personalisation and rich data points should be standard in an organisation's entire go-to-market activity. We call this strategy Account Based Applied―treating ABM as an individual discipline only reinforces the silos it should be breaking down. Our CEO Matthew Stevens explores this in more detail in this recent article.
But before you can apply the right principles to your go-to-market strategy and design a bespoke ABM approach, your marketing and revenue teams need to consider variables specific to their department―the business problem they need to solve, which accounts to prioritise, the size of deals they want, and what internal capabilities they can lean on. Our ABM experts have developed a set of 5 questions to help you get started on your ABM journey. Simply answer them and we'll review your variables and send you some ideas for creating your own winning ABM strategy.
Get in touch with me

If you want to know more about ABM and how it applies, specifically to your organisation, you can get in touch with me. I'd welcome the chance to get to know you, identify your business challenges, and offer your team some fresh, new perspectives