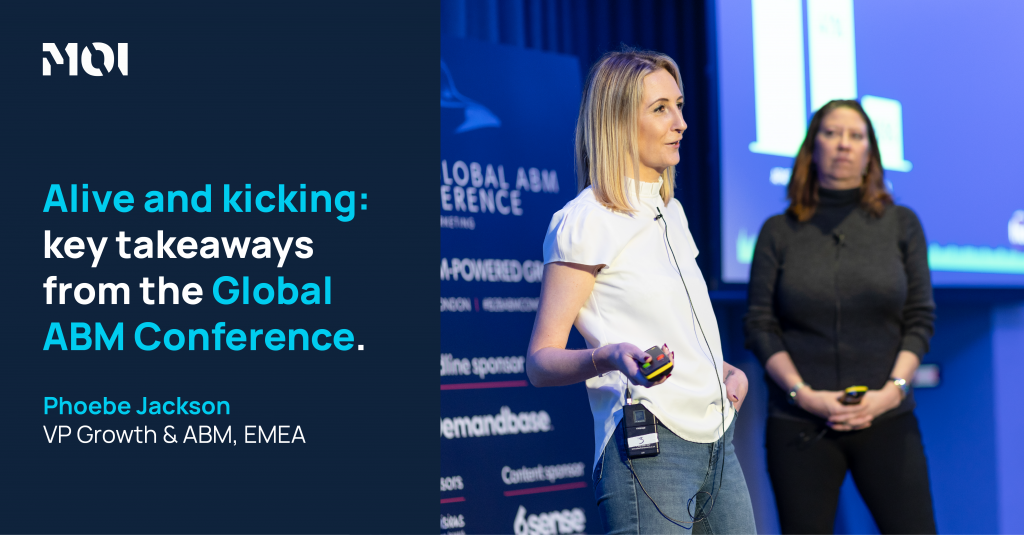 I had the pleasure to join my MOI colleague Julie Wisdom at B2B Marketing's Global ABM Conference a couple of weeks ago, where we gave a presentation sharing some of the findings of our ABM research report, brought to life in the context of American football. I also very much enjoyed all the other sessions across the event, so I'd like to share some of my key takeaways.  
The biggest for me is that ABM is very much alive and well. But it's no longer just a marketing programme. Instead, for many organisations, it's now at the heart of everything they do to reach their customers. As our research revealed, ABM has matured to a 'business as usual state' in North America (NAM), with UK and Europe catching up, and APAC following closely behind.    
But making ABM your organisation's go-to-market strategy doesn't happen overnight. Some of the biggest challenges include: getting endorsement for ABM all the way from the top of your business; a rigorous operating model including cross-organisational collaboration, data integration and customer-centric processes; and a flexibility and creativity mechanism that sits on top of everyday 'ABM Ops' to surprise and delight your internal teams and accounts.
In our survey of 200 marketing leaders, marketers in NAM said that 'sales and marketing alignment' is one of their top five challenges, while 'building a business case' made the list for those in the UK and Europe. This supports the notion that NAM is a little ahead when it comes to the maturation of ABM.
But the unanimous number one challenge for marketers across NAM, the UK, and Europe was ensuring data quality, accuracy, and availability. And we know that when ABM becomes business-as-usual—as it has done in NAM and some EMEA organisations—the role of data becomes even more important because you're working across teams in a more orchestrated fashion, and have a greater need for a single view of your customer.
Taking ABM from marketing strategy to business strategy
If ABM is now a growth strategy rather than a marketing or sales strategy, then having the board onside is more important than having every salesperson backing you—as Catherine Dutton, VP Global Account-Based Marketing at Pegasystems, spoke about.
So, if certain individuals in Sales aren't interested, it's not a problem—prioritise the sellers who get it, and either educate the rest or keep them on the bench until they see the traction their peers are getting.  
And when trying to embed account-based behaviours across your organisation, she says that qualitative feedback can be just as important as quantitative. A salesperson telling you what is and isn't working for them can help you just as much as hard numbers in proving a business case for ABM.
The proof is in the pudding
Testing, too, is key. Robert Norum, an ABM expert at Propolis, spoke about the importance of investing properly in pilots. That's something I've seen myself. If you're at the beginning or mid-way through your ABM journey, you need to experiment. But for a pilot programme to be a success, it needs to accurately reflect what a full ABM programme would actually look like—and that means you need investment and resource. If your pilot doesn't live up to expectations, you won't build a very strong business case.
Top tips for sales enablement 

There was a great session on sales enablement from Tony Jarvis, Managing Director of EI Advisory, Emily Claire Poupart, Client and Business Development Lead at Arup, and Lizzie Donnachie, Director Product Marketing for Azure Business Group, Microsoft. Here are some of the top tips I took away from it: 
Building trust: You can't rush the 'Trust Equation,' which consists of credibility, consistency, and intimacy. It helps to make small wins, joint KPIs, and qualitative feedback to show continual successes. 
Getting wider buy-in: Try building on an existing initiative that's working rather than going straight in with a completely new ABM programme. 
Making an impact: Instead of choosing an account where things are already going really well, pick one where you can go from zero to hero, where you can show how you've moved the dial, such as through building closer or new relationships, or opening new opportunities or deals.   
Combatting sales cynicism: Make it clear that ABM isn't a competition between Marketing and Sales. Ask where the sales team's gaps are, where they'd like to make an impact, and what change they'd like to see. Explain that you're there to offer ongoing support, and that you're all working together rather than just giving the sales team to-do lists to complete. 
Balancing short-term success with long-term goals: Try setting realistic joint quarterly goals that enable you to achieve immediate wins that drive confidence in the programme.  
Decision-making units are becoming more complex
So, once you've got your house in order, how do you actually go about reaching your audience? At the conference, Demandbase's Jon Miller spoke about a shift from Marketing Qualified Leads (MQLs) to Qualified Buying Groups. This reflects the need to change how we measure success as decision-making units become increasingly complex.
Jon also spoke about how we can use AI for predicting pipeline based on buyer behaviours. This supports MOI's own research findings, where marketers are getting more sophisticated with AI. Outside of the typical areas where early adopters are seeing success—such as account prioritisation, workflow automation, and personalising content, comms and experiences—48% of respondents in NAM cite 'audience behaviour' as a good use of the technology, and 69% 'customer preferences,' further supporting the narrative that the NAM market is currently more mature. 
ABM needs next-level storytelling
Storytelling has always been a powerful tool for marketers. But Catherine Alexander, Vice President, Training Services, Corporate Visions, made a great point at the conference: the stories we tell should be different depending on if we're speaking to customers or prospects.
For prospects, it's important to convince them that they need to be doing something different, i.e. using your solutions rather than maintaining the status quo or using your competitors' solutions. And for customers, you need to convince them of what they risk losing by switching to a competitor, and what they gain from staying with you.
Catherine also explored the need to tailor how you speak to groups at different levels of an organisation, from project level, to business unit level, to board level, translating metrics into different languages. The same applies when building and reinforcing the case for ABM!
Want to make ABM business-as-usual in your organisation?
No matter where you are on your journey, there's a conversation to be had about how you realise the true value of ABM. So if you want a chat, or to receive our report, send me an email!