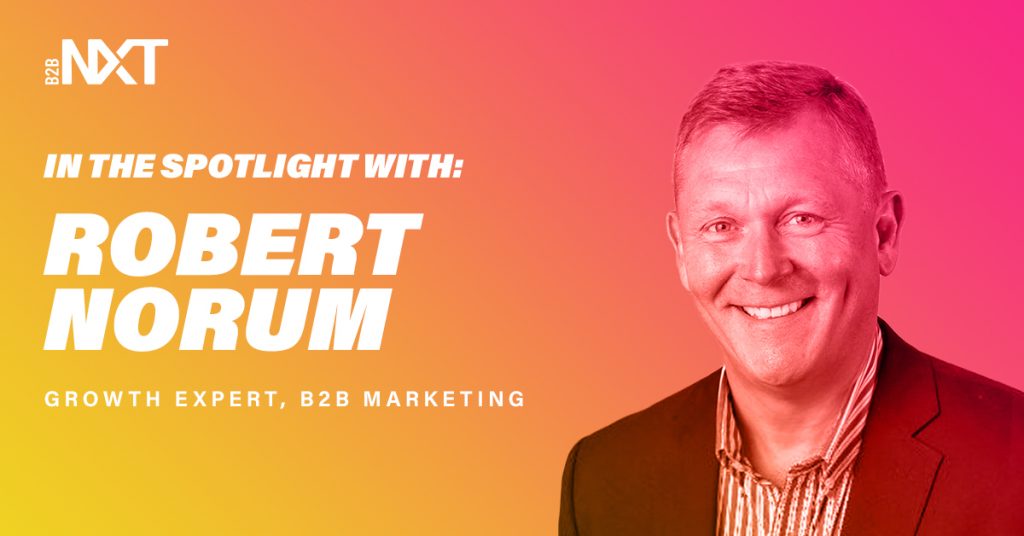 In our In the Spotlight series, B2BNXT are joined by leading thinkers in B2B to delve into the latest trends, examine changes in the marketing landscape, and discuss the future of our industry.
This week we interviewed Robert Norum, an independent marketing consultant, growth expert, and ABM specialist and trainer, with 30 years' experience articulating companies' business strategies, developing their brands and messaging, delivering marketing programmes, and driving new business—with a focus on ABM.
We sat down with Robert to take a deep dive into what ABM will look like in 2021, and what impact it will have on B2B as we transition into the next stage of the COVID era.
Q: What will be the key trend for ABM in 2021?
'This is a really challenging question—but I think it will come down to the trust economy. Trust has become increasingly important in business and ABM, and that's been driven by the pandemic and people working remotely. We've all had to become more selective about the conversations we get into. So it's now less about the product, and more about the relationship you have with the particular vendor selling it.'
Q: What are your top tips for effective ABM sales and marketing alignment?
'So many organisations are wrestling with how to bring ABM sales and marketing together right now. For me, the clearest way to solve this issue is firstly to ideate a definition of ABM that your teams accepted, and perhaps even contributed to formulating themselves. Then when you begin your ABM processes, these same teams need to be involved from the get-go. There should be a scoping or kickoff session so key sales leaders can articulate where the gaps in their knowledge lie, so they can decide what to do next, be that the research and insight phase, strategy, or value proposition.
So for me the critical thing is that sales aren't passengers; they're not waiting for marketing to do something. They're involved from day one, and there are ongoing touchpoints where they come together with marketing to discuss precisely what happens next.'
Q: How can organisations better embed their ABM programme?
'Often I see people dive in when they don't have all the necessary building blocks. From the top down you've got to have executives engaged with the ABM programme. Because when the going gets tough, you'll need the support and backing of senior members of the organisation.'
Q: What's next for ABM?
'ABM of course stands for account-based marketing—but I think, moving forward, it might be more appropriate to call it account-based management instead. A lot of companies are moving away from marketing being seen as the drivers and owners of ABM. Some are even renaming it account-based strategy. So I believe what's next won't just be sales and marketing alignment, but also looking at the most important accounts and prospects and treating them in a fundamentally different way, making our approach much more personalised, more targeted, than we have done traditionally.'
Are you a leading thinker in B2B? We would love to sit down with you on B2BNXT and get your side of the story. Where is B2B going in the wake of the pandemic? What challenges will we in the industry face in the coming months, or even years? If you've got a distinctive and important message, get in touch today.
Watch the vodcast now!